We are approved local installers for dry verges in Kildare. Wide range of custom colour choices and style finishing to choose from. Available options including matching choices for uPVC soffits and fascia.
Under testing mechanically fixed ridge tiles and verges were found to be more durable and less likely to come lose in storms. Dry Ridge and Dry Verge systems have many other advantages.
They are much easier and quicker to install and they don't need the continual maintenance of mortar ridges and verges. Dry ridges and verges can greatly extend the life of a roof by making it less susceptible to water damage. They also provide better airflow, reducing condensation in the roof.
Upgrade the ridges on your home today with a new dry ridge and dry verge system.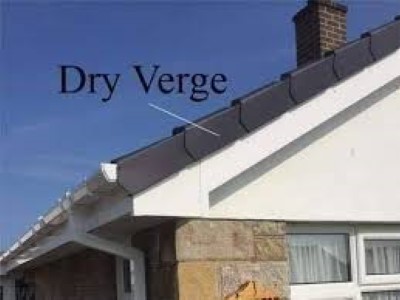 BENEFITS TO A DRY VERGE SYSTEM IN KILDARE
It provides clients with a clean visual line to the verge
It provides gable verges with a continuous weather-proof cover
Dry verge doesn't require a slate under cloak or mortar bedding
Requires much less time and labour
Dry verge can be fitted even in poor weather
Compliments the finish of PVC bargeboards, soffits and fascias
Available in a comprehensive range of colours
Quality connectors available for joints
Maintenance free, and easy to fix as dry verge doesn't require special tools or adhesives
Increases overall roof strength and increased security against wind damage

Over 30 years experience at working on roof ridges and verge systems. We now use exclusively Dry Verge systems instead of a wet verge on all on our new roof installations in Kildare.
We provide a fast same day response, so if you live near the County Kildare region in Ireland, we can be at your home in less than 1 hour!
Get a MASSIVE discount today by replacing your fascia, soffits and guttering along with your Dry Verges in Kildare.
Our Kildare roofers only use quality suppliers for our roofing materials to ensure each and every roofing service is done to the highest of standards to approved specification.
Call our Dry Verge Specialists on: 045 247114 for a free no obligation estimate throughout County Kildare including Naas, Celbridge and Kildare town.
BOOK A FREE ESTIMATE TODAY
Get a free quote today from Roof Wise if you live in the County Kildare region of Ireland.