Need Your Roof Repaired ASAP? Call Us On 045 247114 to schedule a free estimate on roof repairs in Sallins. Roof Wise Kildare provides a 24/7 emergency roof repair service in Sallins. No roofing repair job is too small or too big for our team to handle.
Our emergency roof repairs in Sallins include: a temporary repair to secure your roof and ensure no further water damage; a free itemised quote for your insurance company, a full roof repair completed to the highest standard; free 24hr roofing emergency call out service; storm damage assessment and repair services in Sallins.
The roofing contractors at Roof Wise Kildare can't be beaten on value, professionalism, workmanship quality and efficiency in roof repairs. Our roofing team provides high quality residential roof repairs throughout Sallins including other areas in Kildare such as roofing repairs in Athy and more.
Why Choose Us To Repair Your Roof in Sallins?
Our roofers have over 30 years experience in the roofing trade, local to your area and with a 10 year guarantee on all our work. We provide a price match guarantee as well! We pride ourselves on the quality of our roof repair services in Kildare.
Leaking roofs
Loose roof tiles
Loose felt on roof
Flashing replacements
Repairing underlays
Minor roof repairs
Ceiling leaks
Roofline repairs
Roof replacements
Domestic repairs
Roof tilers
Emergency roof repairs
Flat roof repairs
Roof maintenance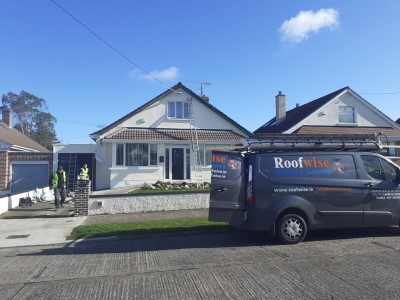 Book A Free Estimate
Get A Free No Obligation Quote in Sallins
ROOF WISE KILDARE
Straffan Road, Maynooth, Co. Kildare
KILDARE OFFICE: 045 247114
CALL DIRECT: 087 6013265
When You Need A Roofing Or Guttering Specialist Near You, We Are The Number One Option.
We work on pitch roofs and flat roofs to gutters and fascia, No job too large or too small in Sallins.
Family Run Business
Competitive Pricing
Free Same Day Quotes
Emergency Call Outs
Extensive Experience
Quality Workmanship
Mastercraftsmen Approved
Insured
Local Roofer