We specialise at flat roofing in Dublin with options for an affordable solution to get your old flat roofing replaced. Call our flat roofers to get a free estimate in Dublin today.
Felt roofing is most commonly applied on sheds, garages and small extensions. Other choices available for flat roofs includes uPVC corrugated roofs, rubber membrane roofs and fibre glass roofing. However, felt roofing provides the best value for money if you are looking for a fast and affordable solution.
We use only quality manufacturers such as Iko, Soprema and Laydex waterproofing for laying down felt on flat roofs. This includes overlay systems that can be installed over existing roof coverings (subject to condition of roof), giving a good extension to a life of your roof's covering for a smaller cost and less disruption.
Call Roof Wise Dublin today to book a free estimate for repairs and installation of felt roofing.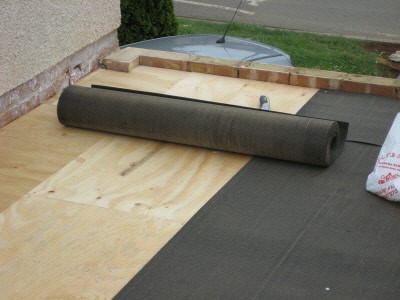 WHY CHOOSE US FOR FLAT ROOFING IN DUBLIN?
We provide excellent value when installing new flat roofs, Over 30 years experience, local and approved flat roofer in Dublin.

Small problems can often lead to bigger ones if not caught in time, so by frequently inspecting your felt roofing condition, Dublin roofing repairs can be undertaken and problems sorted as soon as possible.
We provide a fast same day response, so if you live near the County Dublin region in Ireland, we can be at your home in less than 1 hour!
Extra effort is always made to see if the flat roof can be repaired whenever it is possible, only recommending a replacement roof when it is absolutely needed.
Our flat roofing contractors only use quality suppliers for our roofing materials to ensure each and every roofing service is done to the highest of standards to approved specification.
To get a free estimate on flat roofing in Dublin, call Roof Wise Dublin on: 01 254 8329 for a no obligation estimate.
BOOK A FREE ESTIMATE TODAY
Get a free quote today from Roof Wise if you live in the County Dublin region of Ireland.